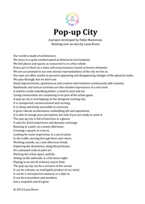 In June 2013 City Space Architecture started to work on the research project "Pop-up City", in the city of Bologna, as a part of the international research project "Past Present and Future of Public Space", coordinated by our President Luisa Bravo, in collaboration with the photographer Fabio Mantovani.
Working on different locations, the "Pop-up City" project intends to highlight existing places with a potential for public life, looking for invisible dimensions of the public realm, searching for an "ordinary magic" along everyday streets, squares and neighborhoods, delivering new powerful images of the urban world.
We explore in particular those suburban places generally disconnected from the mental representation of the urban narrative plot of public spaces, made of beauty and fascination, with no identity and continuity with the historic environment. We are moving further from the European mental attitude that immediately links the concept of "public space" to the idea of a traditional designed square.
These places are part of the everyday existence, but common people are accustomed to experience them as fragments in a sort of jump-cut urbanism, affected by the use of cars. We pass through but we don't see.
The Pop-up City project is trying to document what is now largely undocumented.
We are representing the city of Bologna, but actually the Pop-up City could be anywhere.
---
To read the curatorial statement, click on the image on top left.
---
Read More »