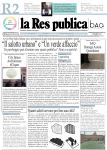 During the Art City White Night, a special event within "Arte Fiera. International Fair of Modern and Contemporary Art", on January 25, 2014, we presented [The urban lounge and a green view], a collaborative project developed with bAQ, a young group created in Florence by several students from the Faculty of Architecture.
Our installation took place in Via Santo Stefano 7, in the urban core of the city of Bologna, close to the Leaning Towers, within the footprint of 2.5 by 10 meters of two parking spots. From 6:00 pm to midnight we transformed a small outdooor space into a private/public domestic living room and its garden.
We met many citizens from Bologna and had a fun and pleasant time with them and with our friends, sitting on the sofa or surrounded by the nature. They all shared our vision of a road made for people to meet and socialize, with a very positive attitude and a friendly interest. Thanks you all!
---
[To read and download the first edition of our magazine "la Res publica" (in Italian), click on the image]
---
Read More »