Pop-up City @ Tin Shui Wai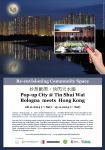 Pop-up City @ Tin Shui Wai
8-15 Nov 2014
Tin Sau Bazaar, Hong Kong
Opening Reception: 18:00-21:00, 8 Nov 2014, Saturday
Exhibition: 8:00-20:00, 9-15 Nov 2014
.
Tung Wah Group of Hospitals (TWGHs) Tin Sau Bazaar will be turned into a Pop-up City – an open gallery of public space – for a week in November, where local residents and the general public can gather, interact and envision public life in an existing place in the new town.
Pop-up City is an ongoing photographic research project investigating public space. It is initiated by Luisa Bravo, our President, together with Italian photographer Fabio Mantovani. Pop-up City documents suburban places in Bologna, usually with no identity and continuity with the historic environment. The photos intend to highlight existing places with a potential for public life, searching for an "ordinary magic" along everyday street spaces.
The Magic Carpet project team at the Chinese University of Hong Kong and Tung Wah Group of Hospitals Tin Sau Bazaar see that Pop-up City resonates the situation of Tin Shui Wai: It locates at the margin of Hong Kong; its space has no identity; it lacks street spaces for communal encounters and micro-economic activities. All these result in the stigmatisation of Tin Shui Wai with problems such as social isolation and a high unemployment rate.
Bologna and Hong Kong share the same suburban reality, in a way that is not difficult to perceive: even if they are related to different geographical contexts and cultures, the two cities are dealing with living communities in new, large urban landscapes far away from the historic downtown district. The suburban world can be banal, sometimes ugly, not interesting, but full of life and can transform itself into an enchanting environment. People simply have to understand a new kind of urbanity, made of small, temporary, spontaneous and creative episodes of emotional exchange. A pop-up city is overlapping on the existing designed city. It is unexpected, unconventional and exciting. It is inexpensive and freely accessible to everyone. It creates vibrant energies, embedding life and aspirations. It changes your perception, but only if you are ready to embrace it.
Through staging Pop-up City @ Tin Shui Wai, the Magic Carpet project team and Tin Sau Bazaar hope to re-envision, activate, and transform the public space of the district, and thereby make the community more vibrant. In addition, the project aims to foster art and cultural exchange in Tin Shui Wai, where creative activities are scarce. The two organisations are joining force for the second time following the well-received "Magic Carpet" outdoor cinema at Mid-Autumn Festival 2014, aligning their interests in improving the public spaces and empowering the local community of Tin Shui Wai.
Pop-up City @ Tin Shui Wai opens on Saturday, 8 November, 2014. There, local residents and the general public can gather together and enjoy Italian food and beverage on a cool autumn evening.