City Space Architecture meets the 11th World Urban Forum in Katowice (2022)

The city of Katowice hosting the 11th World Urban Forum. More info here.
.
City Space Architecture has been selected to be part as an exhibitor of the 11th session of the World Urban Forum (WUF11), taking place on 26-30 June 2022 in Katowice, Poland, convened by UN-Habitat, the United Nations Human Settlements Programme. City Space Architecture is the only Italian exhibitor participating at the WUF11 with over 90 exhibitors from 43 countries. The exhibition will be developed under the theme PUBLIC SPACES FOR ALL for a Just, Resilient and Flourishing Urban Future, in cooperation with the Global Platform for the Right to the City (Brazil), Healthbridge (Canada), Inhabit Place (Australia), the Public Space Research Group (USA), KDI (Kenya), Sustasis Foundation (USA), World Blind Union (Canada), CAPS - Centre on African Public Spaces (South Africa), the School of Architecture at the Chinese University of Hong Kong (Hong Kong), PlacemakingX (USA) and the Global Public Space Program at UN-Habitat and it is intended to celebrate 10 years of activities of the program.
.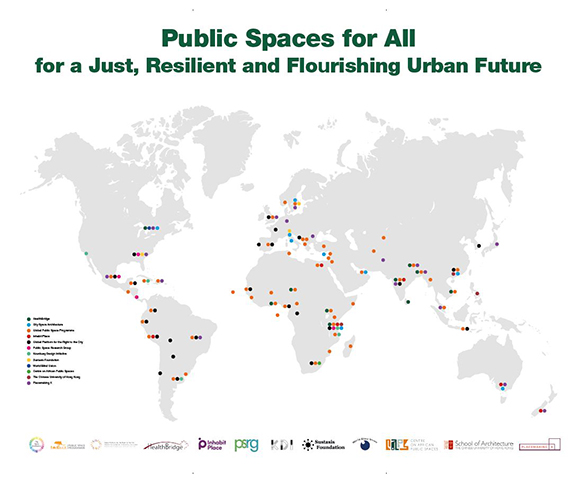 Main panel for the exhibition held by City Space Architecture at the 11th World Urban Forum, developed in cooperation with UN-Habitat, with the impact of public space activities from 11 affiliated partners.
.
The World Urban Forum (WUF) is the premier global conference on sustainable urbanization. The WUF was established in 2001 by the United Nations to examine one of the most pressing issues facing the world today: rapid urbanisation and its impact on communities, cities, economies, climate change and policies. The first WUF was held in Nairobi, Kenya in 2002 and has been held around the world ever since.
WUF11 is co-organized by UN-Habitat, Poland's Ministry of Development Funds and Regional Policy and the Municipal Office of Katowice. This will be the first time that the WUF will take place in Eastern Europe. The theme of WUF11, Transforming our Cities for a Better Urban Future, will provide greater insights and clarity on the future of cities based on existing trends, challenges and opportunities, as well as suggest ways cities can be better prepared to address future pandemics and a wide range of other shocks.
Six Dialogues Sessions at the WUF11 will take stock of emerging innovative approaches and practices in harnessing culture and innovation as drivers for sustainable urbanization and provide greater insights into the linkages between urbanization, culture and innovation as a basis for achieving inclusive, safe, resilient and sustainable cities and human settlements. The key focus areas will be related to:
01 - Equitable urban futures
02 - Greener urban futures
03 - Innovation and technology
04 - Building urban resilience
05 - Urban planning and governance
06 - Future urban economy and finance
with also a dedicated dialogue related to Urban crisis response and recovery.