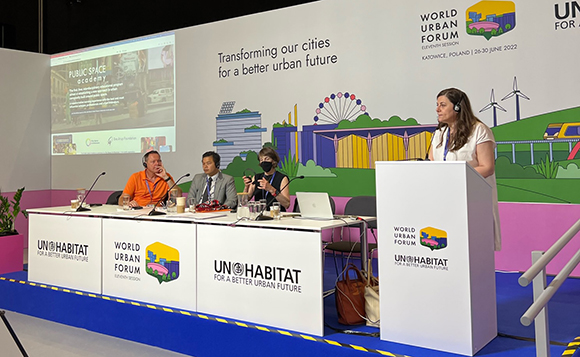 .
Launch of the Public Space Academy at the 11th World Urban Forum in Katowice, coordinated by our Founder and President Dr Luisa Bravo (on the right) with (from left to right) Hendrik Tieben (CUHK), Jose Chong (UN-Habitat) and Setha Low (CUNY, the Graduate Center).
.
During the 11th World Urban Forum in Katowice, City Space Architecture launched the Public Space Academy, the first, free, interdisciplinary educational program entirely dedicated to public space knowledge for the design and implementation of effective solutions with community impact. The Academy is developed in cooperation with the Ove Arup Foundation, with the generous contribution of UN-Habitat. It will start in 2023 as an online and open initiative and will provide introductory and advanced training on public space, engaging the best and most influential scholars, professionals, and urban innovators, from different backgrounds and expertise. It will be developed as a Massive Open Online Course (MOOC) and all contents will be available for free on a customized OpenEdX platform. Online contents will be complemented with several face-to-face activities, such as talks, public dialogues, meetings, workshops, and exhibitions, in different cities worldwide, engaging Universities, cultural institutions and NGOs affiliated to City Space Architecture's global network.
The Public Space Academy is aimed at inspiring and empowering a new generation of urban thinkers and doers who are willing to become agents of change in their own cities and communities.
.
Visit the website of the Public Space Academy
.
The training event at WUF11 titled Public Space Academy: a transformative learning experience for a new approach to urban complexity built around public space was a preview of the contents that will be included in the online training of the Public Space Academy, such as:
- introduction to public space complexity and the need for mature and interdisciplinary analytical skills for academic research and for effective design
- definition a comprehensive urban strategy for local implementation, that is built around humans and their life in the public domain, putting public space as a priority in the regional and local urban agenda.
The training event, attended by more than 50 participants, was divided in three parts, all moderated by our Founder and President Luisa Bravo.
Read More »