"Barcelona by design" | Workshop at Universitat Politècnica de Catalunya
Discovering the value of the urban space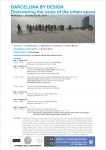 Last week, January 12-16, our President Luisa Bravo co-directed an intensive workshop at Escola Técnica Superior de Arquitectura de Barcelona (ETSAB), Universitat Politècnica de Catalunya, Spain. Working with sixty students from University of Parma (Italy), from the International Master Program in Architecture, Architectural Design Studio course, taught by Prof. Marco Maretto and Prof. Luisa Bravo, and ten students from ETSAB, we were investigating the city centre of Barcelona and the suburban area of the Eixample, along the waterfront to the Forum of Cultures till the river Besos in Sant Adria.
After a guided city tour on foot, a meeting with city managers from the Municipality of Barcelona and a fun long-distance urban experience by bicycle, students were organized in five groups of about fifteen poeple and they had to propose an urban design project for five different locations: a redesign of Placa Catalunya, on two different levels in order to accomodate all flows and connections related to pedestrian use on the ground floor and on the underground metro line level; a redesign of two blocks from the Eixample adjacent to Sagrada Familia in order to create a new pedestrian path as a public space from the Diagonal; a new entrance for the Poblenou Central Park designed by Jean Nouvel at 22@ neighborhood; the creation of new public spaces in a superblock on the Eixample, close to the Gran Via; a new residential mixed-use block in Sant Adria, as a replacement of a large shopping mall and a parking lot.
---
[To download the program of the workshop, click on the image on top left]
---
We worked together with fantastic professors, Estanislau Roca, Miquel Marti, Antonio Moro and Joaquin Sabaté, together with brilliant PhD students, Melisa Pesoa, Renata Priore Lima and Inés Aquilué Junyent. We wish to thank you all for the time you spent with us and for the insights and comments that helped us to understand the city and to work on the design activity.
Congratulations to all the students from University of Parma and from Universitat Politècnica de Catalunya for the commitment and the strenght in working very hard during the days and the nights!
We really hope there will be another opportunity in the future to work with our friends and partners at ETSAB - Universitat Politècnica de Catalunya.
.