Urban Design and Placemaking in Bologna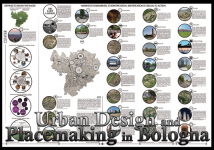 At the beginning of the new Millennium global transformations of urban territories have opened the way, quite inevitably, to more and more complex and profound considerations about the places that surround us, the places that we have built, the opportunities we have missed, and those ones we must, instead, learn to grasp. Common ground, common places, common people, common sense, common tradition were the declarations of the 13.International Architecture Exhibition in Venice in 2012.
It is by now a widely shared fact that cities are a common good, so actions devoted to its transformation, requalification and valorisation should involve everyone. Ideas coming from citizens, associations, residents and ordinary people are easily available and shareable through the virtual world, thus causing drastic changes in the way of thinking and acting in the urban realm. We are in the midst of an unprecedented moment in planning. Although signs of hardship are all around, we see the emergence of a powerful, networked, creative movement of people who demonstrate that place-based and people-oriented actions are possible, despite economic or political obstacles.
The test of this article is an extract from:
Camilla Carmagnini, Noa Matityahou, "Urban Design and Placemaking in Bologna. Reconnecting citizens and public life in the city centre and suburbs through a network of urban sequences", iCAD - International Curriculum on Architectural Design Master Thesis, Department of Architecture, University of Florence, 2013. Supervisor: Prof. Saverio Mecca, Co-supervisor: Prof. Luisa Bravo
A summary of the Master Thesis has been presented as a scientific paper at the XXVIII Institute of Urban Planners National Congress in Salerno, Italy, and then published in a book. Below you can read the full paper.

.