Entrepreneurial City Lab: learning from Berlin | International summer workshop
City Space Architecture + The Chinese University of Hong Kong + TU Berlin + University of Florence + ANCB The Aedes Metropolitan Laboratory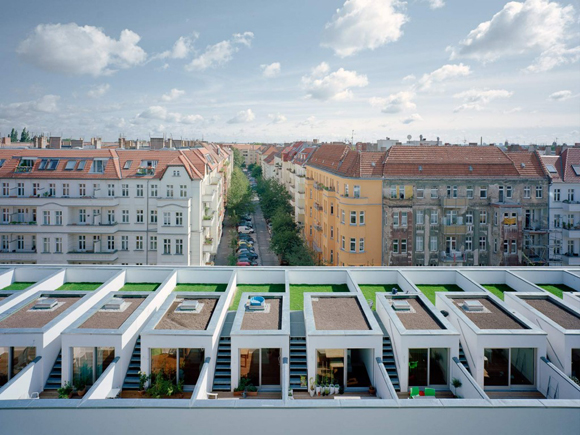 .
After several weeks of intensive work, we are finally ready to leave for the upcoming international workshop 'Entrepreneurial City Lab' which will take place in Berlin on May 22-28, 2017 at ANCB The Aedes Metropolitan Laboratory. The workshop is organized by the School of Architecture of The Chinese University of Hong Kong. City Space Architecture is proud to be among partner organizations, together with U-Lab, University of Technology Berlin (TU Berlin) and the Department of Architecture of the University of Florence, Italy.
This workshop offers the opportunity to explore the city of Berlin as a case study of an Entrepreneurial City. Throughout its turbulent history, Berlin has been an urban laboratory. From Karl-Friedrich Schinkel's 19th century planning, to speculative tenement blocks, modernist "Siedlungen", the international building exhibitions of the 1950s and 1980s, to recent co-operative housing and working projects, the city has continually experimented with new approaches addressing changing urban issues. Most recently, it developed innovative approaches to integrate a new arriving migrant population. The 'Entrepreneurial City Lab' will interrogate how this has been achieved and how we can learn from Berlin for contemporary approaches in urban designs.
The workshop will focus on six exemplary urban forms in Berlin, that can advance our understanding of how this contemporary Entrepreneurial City developed:
1) City of the 19th Century and its 1980s (IBA 1987) and recent regenerations
2) Siedlungen of the 1920-30s
3) Socialist City of the 1950s-80s
4) Interbau Berlin-West of the 1950s
5) Gross-Siedlungen of the 1960-70s and their regeneration
6) Co-housing projects of the 1990-2000s
The workshop offers an intensive learning experience by combining field studies of different areas of the city as well as lectures and seminars helping the students to understand the various aspects of Berlin's urban form and implications for quality of living, social inclusion and economic opportunities.
.
CREDITS
---
International Summer Workshop - Berlin, 22-28 May 2017
Entrepreneurial City Lab - Learning from Berlin
---
Organized by:
School of Architecture, Chinese University of Hong Kong (CUHK)
.
In partnership with:
U-Lab, University of Technology Berlin (TU Berlin)
The Metropolitan Laboratory, Aedes Network Campus Berlin (ANCB)
Department of Architecture, University of Florence (UniFi)
City Space Architecture, Bologna
.
Course Instructors: Darren Snow (CUHK) co-organized with Prof. Hendrik Tieben (CUHK)
In collaboration with:
Dr. Paola Alfaro d´Alençon (TU Berlin) and Dr. Luisa Bravo (UniFi & City Space Architecture)
.

About Aedes Architecture Forum in Berlin, which will host the workshop
The Aedes Architecture Forum is a world-renown independent institution and exhibition space for the international communication of contemporary architecture and urban design. Established in 1980 as the first private architecture gallery in Europe, the Aedes Architecture Forum has gained a large international partnership network, which feeds to an outstanding cultural platform for the global and public discourse of the built environment. Under the guidance of Founder Kristin Feireiss and Director Hans-Jürgen Commerell, the Aedes Architecture Forum, has implemented over 600 exhibitions in more than three decades. It has become synonymous with the great names in the world of architecture by continuously supporting new generations of upcoming practitioners. Many internationally acclaimed architects and Pritzker Prize Laureates such as Frank Gehry, Rem Koolhaas, Herzog & de Meuron, Zaha Hadid, Thom Mayne, SANAA, or Wang Shu, presented their work at Aedes long before achieving international fame. To date, the Aedes Architecture Forum and its team continues to strive to convey novel and outstanding examples of contemporary architectural and urban visions to a wider audience. The Aedes Architecture Forum has internationally received numerous awards and honors for its successful and distinguished commitment to the field of architecture and building culture at large.
http://www.aedes-arc.de/cms/aedes/about
.