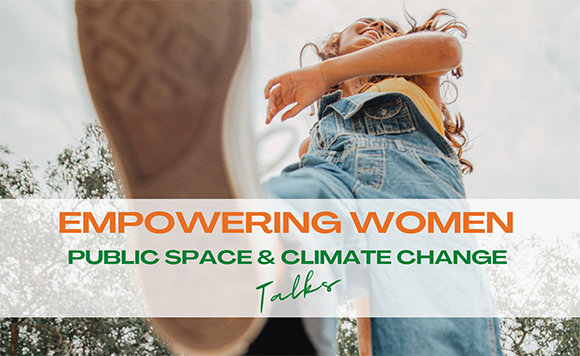 .
In 2022 City Space Architecture signed a cooperation agreement with BIDs Belgium and Global Utmaning to partner with the BIDs Belgium initiative of "Empowering Women, Public Space and Climate Change", in collaboration with UN-Habitat's Her City initiative and supported by the New European Bauhaus, with a series of sessions curated by our Founder and President Luisa Bravo and BIDs Belgium's Founder and Director Rozina Spinnoy.
.
"In order to achieve the Sustainable Development Goals by 2030, the participation and leadership of women in public life is essential. We know also that women are underrepresented in decision making at all levels in both public entities and the private sphere, via evidence of the data and statistics. There is much work to do in terms of Gender parity. There is much data to show that approximately worldwide there are less than 10% of female Mayors and 10% worldwide that are city councilors. There are further breakdowns showing the statistics of Women in executive government positions via UN Women.
Over recent times, projects and initiatives are underway at a local to global level to tackle the gender inequities in the urban environment, from UN Women and linking to Climate Change 'Her City Tools' to the initiatives of UN Habitat. Creating further awareness, research and projects on female led initiatives and gathering experts from a variety of sectors with a focus on empowering diverse women around the world. Engaging in inspiring debates and discussions, taking an inclusive approach to highlight women working in the field. Leveraging the importance of gender equality for more sustainable cities as an efficient tool for the fight against climate change."
In addition, we have over recent years, across the world, become aware of the increasing urbanization and the link to climate change. Although it has received more awareness than before, the link between women and climate change requires more dialogue and attention. Good governance and well-designed urban policies can help tackling the gender (social and racial inequalities) and climate change issues that are prevalent across urban (and rural) areas."
- Empowering, Women, Public Space & Climate Change
.
"Empowering Women, Public Space and Climate Change" includes a series of talks and participation at major global events such as the Innovate4Cities Conference co-organized by the Global Covenant for Mayors for Climate Change and UN Habitat with sponsors of the IPCC - The Intergovernmental Panel on Climate Change (2021).
( .
Read More »