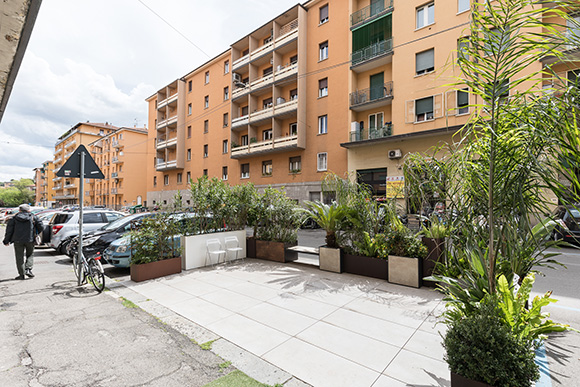 Picture by Elettra Bastoni.
.
In 2020 City Space Architecture implemented a parklet in front of its operational headquarters in the Porto-Saragozza neighbourhood, via Curiel 13/d, in order to develop some placemaking activities by promoting community engagement, creating cross-disciplinary learning spaces and engaging an intergenerational audience and different social groups, with special attention to the elderly and young people.
The design, implementation and management of the parklet is part of A-Place. Linking places through networked artistic practices, co-funded by the Creative Europe program of the European Union. City Space Architecture is partner of A-Place, read more here.
.
A parklet is a public space, for non-profit purposes and open to all, it can be used for free for events and initiatives for the neighbourhood.
.
BACKGROUND STORY
As a response to the pandemic, City Space Architecture (CSA) got involved in a local project named "Strade Aperte" (Open Streets), initiated by a number of Bologna-based grassroots organizations together with architects and designers, in order to suggest small-scale projects to reclaim the public land for greener, pedestrian-friendly and socially inclusive purposes. CSA's parklet was included in the list of actions of "Strade Aperte" to be presented to the Municipality.
Regrettably, the process of obtaining a permit of the local government, even with the support of the "Strade Aperte" project, took a long time (from May to September 2020). City Space Architecture also asked to sign an agreement to co-create the parklet and get institutional suppport on this initiative. Bologna is the first Italian city that approved in 2014 a 'Regulation on collaboration between citizens and the city for the care and regeneration of urban commons'. Read more about the Regulation here.
According to the administrative procedure, our request was published on the website of the Municipality, for public evidence, here. Unfortunately, the Municipality of Bologna rejected our proposal to co-create the parklet. However, the Municipality granted permission but asked to pay a fee for the occupation of the public land, from September 30th to November 30th, specifically for the area hosting three parking spots where the design proposal of parklet was implemented.
Read More »