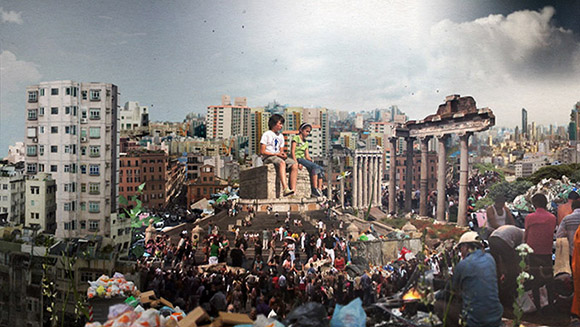 Still frame from PANORAMA, by Gianluca Abbate.
.
During the outbreak of the pandemic in 2020, when Italy was experiencing a severe lockdown, we started to work on our brand new Film Festival Urban Visions. Beyond the Ideal City, developed as part of A-Place. Linking places through networked artistic practices and co-funded by the Creative Europe program of the European Union. The Festival was supposed to take place in November 2020 but was posponed due to the pandemic.
The aim of the UV film festival is to develop a field of research activities to facilitate a dialogue between urban theory, social complexity and film studies, and to raise awareness of some contemporary urban issues, emphasizing the relationship between individuals and the urban spaces they inhabit. In this context, a film becomes a tool to open new perspectives, to explore new theoretical paradigms and research methods, to establish an effective understanding around urban humanities, especially in the urban settings in which the festival will take place.
"URBAN VISIONS. Beyond the Ideal City" is the first, indipendent, Italian-based film festival for short films entirely dedicated to the contemporary city and to urban public life, aimed at exploring urban humanities through an interdisciplinary approach.
The first edition of Urban Visions took place on 22-25 April 2021, on a streaming platform - www.visioniurbane.stream, created in cooperation with OpenDDB, the first distribution network of independent productions in Europe.
We hosted over 100 films on a FREE streaming!
---
We are glad to announce that the free streaming will re-open and all films included in the competitions will be available to watch FOR FREE for two weeks, from August 23 at 8.00am (Italian time) till September 6 at midnight (Italian time) -> extended to September 13 at midnight (Italian time).
VOTE YOUR FAVOURITE FILM! We are eager to assign the Audience Award!
For more info write to urbanvisions@cityspacearchitecture.org.
---
.
And now we are running the competition for short films for the second year of the Festival. Read the OPEN CALL on A-Place and apply by 15 September 2021.
.
.
Official website (in Italian): www.cityspacearchitecture.org/urbanvisions.
Follow our Facebook page Visioni Urbane / Urban Visions.
.
Read More »