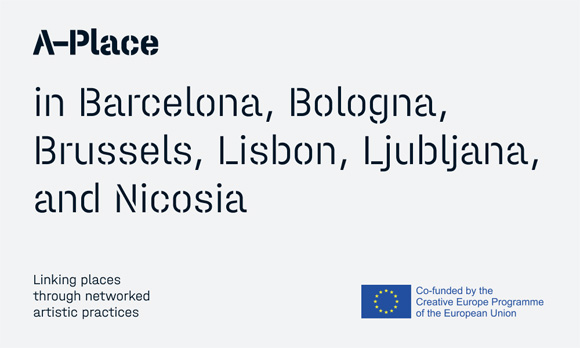 .
We are very proud to announce that City Space Architecture has been awarded with a grant from the Creative Europe program of the European Commission for the project A-PLACE. Linking places through networked artistic practices.
The purpose of A-Place is to design and implement art-centred place making activities that cut across disciplinary, cultural and geographic boundaries. Over the next four years (2019-2023), a series of actions (i.e. performances, installations, debates, and video and photography productions) will be carried out in six European cities: Barcelona, Bologna, Brussels, Lisbon, Ljubljana, and Nicosia. This site-specific research will examine the role of artistic practices as a catalyst for connecting and strengthening communities.
A-Place partnership includes nine organisations from six European countries, three schools of architecture – School of Architecture La Salle, Barcelona (Spain); Faculty of Architecture, University of Ljubljana (Slovenia); KU Leuven, Faculty of Architecture (Belgium); one Faculty of Social and Human Sciences, Universidade Nova de Lisboa (Portugal), three multidisciplinary groups focusing on arts and community engaged urban interventions – Alive Architecture (Belgium), prostoRož (Slovenia), and Urban Gorillas (Cyprus); and two cultural agencies specialised in film and video art – Screen Projects (Spain), and City Space Architecture (Italy).
A-PLACE is dedicated to strengthening the bonds between people and places.
---
The website of A-PLACE is: http://www.a-place.eu/
---
Read More »