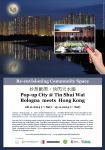 Pop-up City @ Tin Shui Wai
8-15 Nov 2014
Tin Sau Bazaar, Hong Kong
Opening Reception: 18:00-21:00, 8 Nov 2014, Saturday
Exhibition: 8:00-20:00, 9-15 Nov 2014
.
Tung Wah Group of Hospitals (TWGHs) Tin Sau Bazaar will be turned into a Pop-up City – an open gallery of public space – for a week in November, where local residents and the general public can gather, interact and envision public life in an existing place in the new town.
Pop-up City is an ongoing photographic research project investigating public space. It is initiated by Luisa Bravo, our President, together with Italian photographer Fabio Mantovani. Pop-up City documents suburban places in Bologna, usually with no identity and continuity with the historic environment. The photos intend to highlight existing places with a potential for public life, searching for an "ordinary magic" along everyday street spaces.
The Magic Carpet project team at the Chinese University of Hong Kong and Tung Wah Group of Hospitals Tin Sau Bazaar see that Pop-up City resonates the situation of Tin Shui Wai: It locates at the margin of Hong Kong; its space has no identity; it lacks street spaces for communal encounters and micro-economic activities. All these result in the stigmatisation of Tin Shui Wai with problems such as social isolation and a high unemployment rate.
Read More »