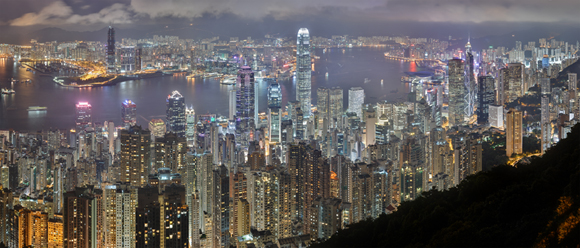 A 46 segment × 3 exposure HDR panorama of the Hong Kong night skyline. Taken from Lugard Road at Victoria Peak, Hong Kong. Author Base64, retouched by CarolSpears.
.
We are extremely proud to be among partner organizations of the 10th IFoU - International Forum on Urbanism conference "The Entrepreneurial City", that will take place at The Chinese University of Hong Kong, at the Yasumoto International Academic Park, on December 14-16, 2017. Our President Luisa Bravo is part of the Conference Committee and she will deliver a keynote speech on December 16 in the afternoon, before the closing ceremony, on the social entrepreneuralism of City Space Architecture and the impact our work is having at the global level through a series of projects and events, with a particular reference to The Journal of Public Space, that we jointly established with the Queensland University of Technology, in partnership with UN-Habitat, the United Nations Programme on Cities and Human Settlements.
IFoU is a network of universities, research institutes and knowledge centers with the task to strengthen the international collaboration in the field of Urbanism. Members of IFoU are academic institutions that are involved in research and education in the field of planning, design and management of the built environment. IFoU was established in 2004 and today encompasses twenty-three distinguished universities in Asia, Europe and South America.
After nine successful conferences, in Beijing (2006), Delft (2007), Taipei (2008), Delft (2009), Singapore (2011), Barcelona (2012), Tainan (2013), Incheon (2015) and Buenos Aires (2016), the 10th conference is inviting international planners and designers to deliberate on theories, design and practices related to "The Entrepreneurial City". This theme evolved in discussions during the run-up to the United Nations Habitat III Conference in Quito (2016). One year after nearly 170 countries adopted the UN-Habitat New Urban Agenda. The question remains how its ambitious goals can be implemented. One of the key goals of the New Urban Agenda is to achieve a fairer share of the prosperity, which is brought by urbanization. For this to happen, urban design, planning and policies need to find ways how in the current socio-political and economic environment opportunities for socially minded and innovative entrepreneurs can be created. At the conference, speakers from 21 countries will investigate these and related questions. We are confident that presentations and following discussions will motivate new initiatives to make our cities more inclusive and prosperous.
Read More »