Past Present and Future of Public Space | Symposium and Exhibition in Bologna
Bologna, 9 November 2013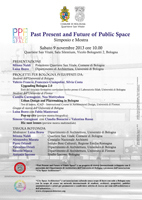 Next Saturday, November 9, 2013 in Bologna a symposium and exhibition from our "Past present and future of public space" international project will take place at the Quartiere San Vitale, in vicolo Bolognetti 2, Sala Silentium, 10am. Look at the map to know where the place is.
Bologna and its public spaces will be the main subject of the discussion. Students from University of Bologna and from University of Florence will present and exhibit results of research activities and of a graduation master thesis, scholars from University of Bologna will offer a preview of multidisciplinar research initiatives regarding contemporary issues of public space, through art and technology. A round table discussion will involve academics, public administrators, architects and urban designers, in order to share different point of views and perspectives.
The event is developed under the patronage of the Quartiere San Vitale, Municipality of Bologna and the Department of Architecture, University of Bologna.
---
[To download the program of the symposium, click on the image]
---