Beyond the ideal city | National competition for short films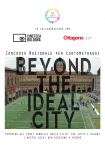 The international conference "Past Present and Future of Public Space," which will take place next June 25-27 in Bologna (Italy), is getting closer! But there is still time to contribute.
We are very proud to announce that City Space Architecture in collaboration with the Cineteca di Bologna and Ottagono.com have just launched a national competition for short films, called "Beyond the ideal city".
Not just words then, but also images, stories and emotions to describe and discuss the Past Present and Future of Public Space. In line with the international academic research project, the main purpose of this competition is to investigate the contemporary city, the connections, intersections and urban activities that take place inside it, seen through complex social issues, contexts and human geographies. Forgetting those seducing shapes of the ideal city, the competition asks to explore the public realm beyond the stereotypes and well-known images of consumerism, looking for hidden aspects that our eyes, deliberately or unconsciously, in the daily experience don't want or cannot see.
The deadline for sending short films is June 3, 2014. No registration fee is required.
On June 25, during the international conference, in a special session at Cinema Europa (via Pietralata 55), the jury will award the winner in front of a large audience, with the "Prize Ottagono.com", worth euro 2,000 in cash. The short film will then be presented and discussed.
The competition announcement (in Italian) can be downloaded HERE (as a .pdf file).
.
.
Mancano solo due mesi alla conferenza internazionale "Past Present and Future of Public Space", che si terrà il 25-27 giugno a Bologna! Ma è ancora possibile partecipare e inviare il proprio contributo.
L'Associazione City Space Architecture è orgogliosa di annunciare che è stato appena lanciato il bando di concorso nazionale per cortometraggi dal titolo "Beyond the ideal city", promosso in collaborazione con la Cineteca di Bologna e con Ottagono.com.
Non solo parole quindi, ma anche immagini, storie ed emozioni per descrivere il passato presente e futuro dello spazio pubblico. In linea con il progetto internazionale di ricerca, l'intenzione è di indagare la città contemporanea, le connessioni, le intersezioni e le attività urbane che in essa si svolgono, viste attraverso complessi intrecci di socialità, di contesti e di geografie umane. Dimenticando le seducenti forme della città ideale, il bando chiede di esplorare lo spazio pubblico, superando gli stereotipi e le immagini consumistiche di larga diffusione, alla ricerca di quei lati nascosti che i nostri occhi, volontariamente o inconsciamente, nell'esperienza quotidiana non vogliono, non possono o non riescono a vedere.
Termine ultimo per inviare il proprio contributo è il 3 giugno 2014. Non è prevista alcuna tassa d'iscrizione.
Il 25 giugno, nel corso della conferenza internazionale, in una sessione speciale che si terrà presso il Cinema Europa (via Pietralata 55), la giuria assegnerà al vincitore il "Premio Ottagono.com" consistente in 2.000 euro in denaro. Il cortometraggio sarà quindi proiettato e discusso.
Il bando di concorso (in italiano) è scaricabile QUI (come file in formato .pdf).