Parking Night 2015. Don't park the public space into oblivion
Art City White Night, Bologna (Italy), January 24, 2015 | Strada Maggiore 7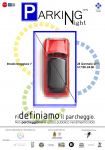 After the success of our "The urban lounge and a green view" presented during the Art City White Night 2014, City Space Architecture is proud to promote the artistic initiative "Parking Night 2015", curated by Valerio Francia, to be held in Bologna during the Art City White Night 2015, as part of the national art fair Arte Fiera 2015.
On Saturday January 24, 2015, ten parking spots located along Strada Maggiore in Bologna, just in the shade of the Two Towers, will be transformed into ten different chances for creative thinking and use, from 5.00pm to midnight. Through the community involvement, by means of interviews and other public activities, City Space Architecture, in collaboration with other partners, will promote a discussion mainly related to the city and public spaces for community life.
---
[To download the program of the event, click on the image on top left]
---
The aim of the initiative is not the production of a beautiful showcase to cherish, but it is the creation of an urban civic episode, effectively shared with the community.
During the "Parking Night 2015", City Space Architecture will officially launch the campaign "Stand up for your public space!": we are willing to involve different people and groups who use, process, manage and enhance public life in cities, in Bologna and in different geographical contexts.
Parking Night 2015 is an event promoted and organized by City Space Architecture, on behalf of the Quartiere Santo Stefano, Municipality of Bologna, in collaboration with:
Andrea Ferrari Photo Design
Arti e Aorte
Associazione "Succede solo a Bologna"
Emanuele Marchesini
Liceo Classico "Luigi Galvani" in Bologna
RE.Creativity Abbigliamento
via Fondazza Social Street
Gli Stanzini
Terra di Nettuno (Guerrilla Gardening Bologna)
Thanks to Cremeria del Viale for supporting the event.
.

The official hashtags are #ParkingNight2015 and #PN2015.
.

.

---

---