Urban Visions | Conversazioni sullo spazio pubblico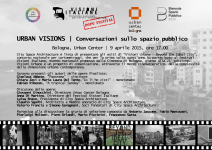 City Space Architecture is proud to present the shortlisted films from "Urban Visions - Beyond the Ideal City", a brand new section that was included for the first time in 2014 as part of the 21° Italian Festival Visioni Italiane, promoted by Cineteca di Bologna, that took place on February 25 - March 1, 2015. Visioni Italiane was born in 1994 in order to give space to all those works that are made by young authors and that remain largely invisible, such as short films, documentaries and experimental films, in search of a distribution.
On April 9, 2015, 5.00pm, at Urban Center Bologna, Sala Atelier, Gianluca Abbate, Chiara Zevi, Maria Laura Del Tento and Fabian Ribezzo, film makers awarded during the ceremony at Cinema Lumiere on March 1 will present their work during a conversation with Giovanni Ginocchini, Director of the Urban Center Bologna, Anna Di Martino, Director of Festival Visioni Italiane, Claudio Sgarbi, architect and professor at Carleton University, Honorary member of City Space Architecture, our President Luisa Bravo and our charter members Simone Garagnani and Valerio Francia. The jury composed by Antonio Iascone, Fabio Mantovani, Pierluigi Molteni, Piero Orlandi, Mario Piccinini and Francesco Satta will contribute to the discussion.
The shortlisted films are:
"Panorama" by Gianluca Abbate - Winner
"Io li ho visti" by Chiara Zevi and Maria Laura Del Tento - Honourable mention
"A Tropical Sunday" by Fabian Ribezzo - Honourable mention
Urban Visions is a project of communication, through films, of the contemporary urban complexity.
Urban Visions is included in the list of collateral events of the Biennale Spazio Pubblico, that will take place in Rome, May 21-24, 2015.
Follow #UrbanVisions on Facebook.
.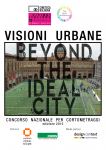 Urban Visions - Beyond the Ideal City investigates the contemporary city, the connections, intersections and urban activities that take place inside it, seen through complex social issues, contexts and human geographies. Forgetting those seducing shapes of the ideal city, Urban Visions asks to explore the public realm beyond the stereotypes and well-known images of consumerism, looking for hidden aspects that our eyes, deliberately or unconsciously, in the daily experience don't want or can't see.
.
.
Here is the extract of Urban Visions from the catalogue of Cineteca di Bologna.
Here is the video of the Urban Visions award ceremony on March 1, 2015, at Cinema Lumiere (in Italian), perfectly conducted by our Vice President Simone Garagnani. Thank you Simone!
.