City Space Architecture meets IFoU at The Chinese University Hong Kong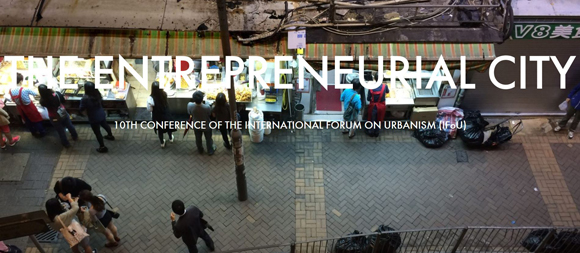 .
We are extremely excited to announce that we are among partner organizations of the 10th IFoU conference, The Entrepreneurial City, which will be hosted by the School of Architecture of The Chinese University of Hong Kong on December 14-16, 2017 - https://ifou2017.com/.
IFoU is the International Forum on Urbanism, a network of universities, research institutes and knowledge centers with the task to strengthen the international collaboration in the field of Urbanism. Members of IFoU are academic institutions that are involved in research and education in the field of planning, design and management of the built environment.
Our President Luisa Bravo is included in the conference committee panel and will deliver a keynote speech at the conference to introduce The Journal of Public Space, our non-profit research project that we established in collaboration with the Queensland University of Technology and in partnership with UN Habitat, the United Nations Agency on Cities and Human Settlements.
After nine successful conferences, in Beijing (2006), Delft (2007), Taipei (2008), Delft (2009), Singapore (2011), Barcelona (2012), Tainan (2013), Incheon (2015) and Buenos Aires (2016), the 10th conference is inviting international planners and designers to deliberate on theories, design and practices related to the entrepreneurial city. In face of global and local environmental, social and economic challenges, following the goals of UN Habitat's New Urban Agenda, the 10th IFoU Conference 'The Entrepreneurial City' explores: how to create urban prosperity and an inclusive economy?
---
The deadline for abstract submission is May 1, 2017 -> EXTENDED May 15, 2017
Read more about the call for papers on the conference website.
---
.

Theme
Based on four trends it seems timely to reconsider the Entrepreneurial City from a new perspective:
(1) A new scale of migration;
(2) The disruption of long established businesses and industries through new tech giants;
(3) The change from long-term employment to temporary jobs and self-employment;
(4) The environmental challenges of climate change demand us to fundamentally reconsider how we work and live.
.
Subthemes
ECONOMY (a)
Relationships Between Urban Form, Economic Models and Productivity
MIGRATION (b)
Empowering Migrant Entrepreneurs in the Arrival City
INFORMALITY (c)
Mapping the Impact of Informal Social-Economic Dynamics on Urban Space
SPATIAL MODELS (d)
New Urban Space and Typologies to Connect Working and Living
PUBLIC SPACE (e)
Social Entrepreneurialism and New Forms to Interact in Public Space

.

Key Dates
Call for papers: 1 March 2017
Deadline for abstract submission: 1 May 2017
Notification of abstract acceptance: 22 May 2017
Deadline for full paper submission: 18 September 2017
Online registration opens: 22 May 2017
Deadline for early bird online registration: 31 July 2017
Online registration closes: TBC
Conference: 14-16 December 2017
.
Venue
Yasumoto International Academic Park, The Chinese University of Hong Kong, Shatin, NT, Hong Kong.