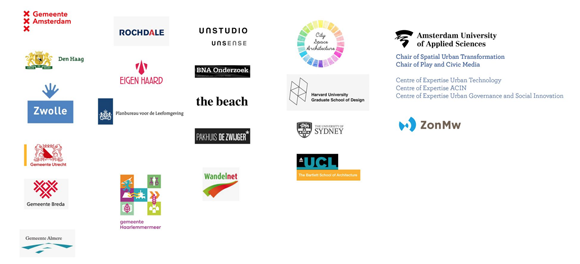 .
City Space Architecture is a proud partner of the Amsterdam University of Applied Sciences for the European project From Prevention to Resilience: Designing Public Spaces in Times of Pandemics, developed in cooperation with leading international Universities, such as Harvard University, The Bartlett at UCL, University of Sydney, and with high level professional organizations, such as UNStudio, Pakhuis de Zwijger, The Beach, and with PBL Netherlands Environmental Assessment Agency.
This project will explore and investigate the question: how can design interventions in public space for the 1.5-meter society also contribute to strengthening social and ecological resilience?
Through a combination of desk research, expert sessions with an international community of practice and research-through-design interventions, this research project aims to go beyond the purely practical prevention approach and explore how Covid-19 measures can be linked to making neighborhoods more resilient, both socially and ecologically.
Read More »