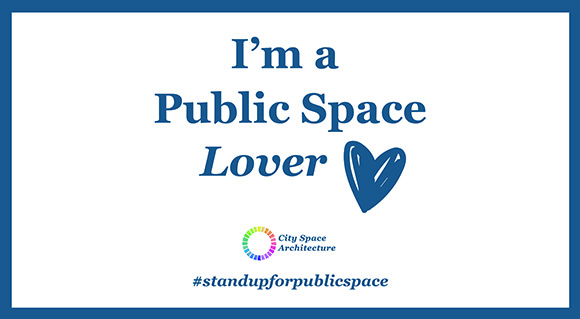 .
City Space Architecture is 10 years today, 13 May 2023! 🥳🎂

We are very grateful for the support we have received throughout the years by so many individuals that are now part of our community and are sharing with us their enthusiasm, progressive thinking and positive energy. We warmly thank leading Universities, influential institutions and committed non-profit organizations at the global level that have partnered with us and helped us to develop ambitious and yet very successful projects, spanning from research to advocacy to implementation. We are proud for the ongoing cooperation with UN-Habitat, the United Nations Human Settlments Programme, that started with our participation at the Habitat III conference in Ecuador in 2016, where we launched our campaign 'Stand up for Public Space!'. Today we are a renowned and accredited stakeholder at major UN events, after our participation to several World Urban Fora (Kuala Lumpur, 2018; Abu Dhabi, 2020; Katowice, 2022) and at two high-level meetings promoted by the UN General Assembly on the implementation of the New Urban Agenda at the New York's headquarters (2017 and 2022).

Throughout the years we have been shaping a strong and very solid vision on public space, and on the occasion of this 10-year anniversary we would like to celebrate our achievements, highlighting our most important projects:
- The Journal of Public Space, the first-ever, academic, open access journal on public space: in almost 8 years we have published 20 issues, engaging 300+ authors, 500+ reviewers and editors and 50.000+ readers. Our online initiative "2020: A Year without Public Space under the COVID-19 pandemic" was followed by participants from 80+ countries;
- Public Space Academy, the first-ever, free, interdisciplinary educational program on urban complexity built around public space, that has been kicked off last month after 5 years in the making;
- Mastering Public Space, a web-magazine for dissemination of open access contents on public space from influential and reliable sources, including editorials on cutting-edge topics from relevant authors;
- Public Space Museum, our headquarters in Bologna hosting art-based and artistic practices on public space, established in 2019 and operating throughout the COVID-19 pandemic, currently hosting the exhibition "Imagining Public Space with/for Her";
- Urban Visions, a unique international film festival dedicated to contemporary urban challenges, the first of its kind, with ongoing editions in Bologna (Italy) and Ajman (UAE).

We have estimated City Space Architecture has reached 500.000+ people in these past ten years through the different projects and initiatives we have developed, including conferences, workshops, and seminars, online and offline, engaging in particular early career researchers and professionals.
Read More »