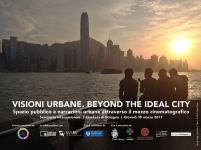 We are glad to invite our members and friends in Bologna for the international seminar 'VISIONI URBANE / URBAN VISIONS. Beyond the Ideal City | Spazio pubblico e narrazioni urbane attraverso il mezzo cinematografico' that will take place next Thursday March 30, 2017 at Cinema Lumière.
This seminar is the opportunity to present outcomes of our three-year project, curated by our President Luisa Bravo, aimed at investigating the contemporary city through the cintematography lenses.
The seminar is promoted by City Space Architecture, in collaboration with Cineteca di Bologna, under the patronage of Municipality of Bologna, of the Department of Architecture of the University of Bologna, of the Biennial of Public Space and the Association of Architects in Bologna, and with the contribution of the University of Auckland, School of Architecture and Planning, New Zealand.
We would like to thank our honorary member Manfredo Manfredini at University of Auckland in New Zealand for co-curating the seminar and for his proactive role in promoting this event!
---
Visioni Urbane / Urban Visions. Beyond the Ideal City is:
- a film competition, a section of the Italian Festival Visioni Italiane
- a collaborative creative lab for institutions and citizens
- a travelling event, in Italy and abroad.
---
At the upcoming seminar we will discuss with several scholars, academics and film-makers about #publicspace and the future of our cities.
We will have a special guest, Colin Fournier, Emeritus Professor of Architecture and Urbanism and Principal Research Fellow at the Bartlett School of Architecture, University College London (UCL) and Visiting Professor at The Chinese University of Hong Kong. He was Bernard Tschumi's partner for the design of the Parc de la Villette in Paris and co-author, with Sir Peter Cook, of the Graz Kunsthaus, a radical museum of modern art in the city of Graz, Austria. Prof. Fournier was an associate member of the famous experimental design group Archigram Architects and was curator of the 2013 Bi-city Biennale of Architecture and Urbanism in Hong Kong and Shenzen. He is currently Chair/ Principal of TETRA Architects 肆合設計.
Read More »