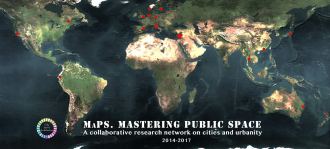 City Space Architecture is proud to announce "MaPS. Mastering Public Space" a new, three-years term, international research project intended to investigate relevant cities and geographical contexts, all around the world.
Maps are what everyone uses to find a place, to understand or to explain the morphology and geography of the urban experience. Maps are a tool and a resource. They are made of cities and people, buildings and public spaces. The aim of the MaPS project is to deliver open-minded maps, filling the voids with intangible meanings and unpredictable urban experiences, telling the story of the contemporary public life in cities, all around the world.
MaPS is made of a large network of scholars, devoted to urban and architectural studies, and also architects, professionals, artists, private and public institutions, non-profit organizations and citizens. Those scholars will investigate a specific city, developing research activities, involving students, professionals and public/private institutions, thus establishing a small Lab able to promote a local debate on specific issues, to be reported to the network.
All affiliated members of the MaPS project will meet in person at least once every year, in the occasion of public conferences or events, in Italy and abroad.
City Space Architecture will serve as the leading coordinating Lab in the city of Bologna and will developed several research projects related to contemporary architecture and public space. Click on the image on top left to discover the cities that already are part of the MaPS project.
---
A CALL FOR INTEREST IS NOW OPEN!
Deadline December 31, 2014.
---
Read More »