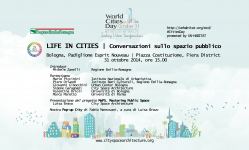 This Friday, 31 October, is the very first World Cities Day promoted by UN-Habitat! This years theme is "Leading Urban Transformations".
Leading urban transformation is about redefining the urban paradigm for future generations. It is about empowering people to contribute to creative solutions that can improve our shared urban future. It is about innovation and new ideas to bring about the city we need and the future we want.
City Space Architecture will be part of the event with the seminar "Life in Cities | Conversazioni sullo spazio pubblico", on urban transformation, urbanity and public space. The seminar is organized in collaboration with the Emilia-Romagna Region and will be held in Bologna at the Esprit Nouveau Pavilion, Fiera District. It will bring together public administrators, academic professors, professionals, artists and citizens, exchanging ideas and reflecting upon projects, experiences, research and practices, comparing different points of view and multidisciplinary approaches.
The seminar will be also dedicated to the presentation of the international research project "MaPS. Mastering Public Space". MaPS is a three-years term project intended to investigate relevant cities and geographical contexts, all around the world, through a large network of scholars devoted to urban and architectural studies. In addition, the seminar will include the presentation and exhibition of the photographic research "Pop-up City" developed by Fabio Mantovani and curated by Luisa Bravo, that was exhibited for the first time at the Museum of the History of Bologna, June 27-July 20, 2014. "Pop-up City" was presented on September 1-3, 2014, at the "Future of Places" conference in Buenos Aires, Argentina, promoted by UN-Habitat, Project for Public Spaces and Ax:son Johnson Foundation.
The seminar "Life in Cities" is officially registered on the UN-Habitat World Cities Day website.
Follow the hashtag #citiesday #urbanoctober
Follow the event on Facebook.
---
To read the program of the event, click on the image on top left.
---
For any info about the seminar in Bologna, please write to: info@cityspacearchitecture.org
.
Read More »