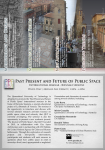 We are delighted to be partners of QUT - Queensland University of Technology in the 'Past Present and Future of Public Space' international seminar that will take place in Venice on September 23, 2016, in the frame of Biennale Sessions, a special educational project of La Biennale di Venezia. This seminar is the first meeting of the research group focused on public space, cities and urbanity that we started after the successful three-day conference held in Bologna in 2014.
During the seminar we will present a new academic journal, 'The Journal of Public Space', that we founded in collaboration of the Queensland University of Technology and in partnership with UN-Habitat, the United Nations Human Settlements Programme. Through the exploration of research projects and site-specific interventions, participants will seek answers to questions about how public space in cities is nowadays lived, used, appropriated or neglected. The seminar is an opportunity to share knowledge and discuss with researchers and students around the importance of public space in our cities.
Two relevant institutions are project partners of the 'Past Present and Future of Public Space' research group: the Biennale dello Spazio Pubblico, an international event promoted by INU | Italian National Institute of Urban Planners, that takes place in Rome - the next one will be on May 2017 - and The Chinese University of Hong Kong, MSC in Urban Design Programme. We already worked with both of them and we are happy to establish this partnership, that we are sure will be fruitful and inspiring.
Read More »