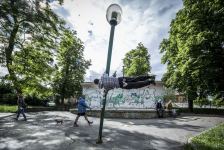 Some reflections from Pop-up City #11 photographic session at Giardini Margherita, Bologna.
During the past year we worked on investigating some bottom-up actions and informal practices able to transform and enhance public space and its perception in the city of Bologna.
Our challenge was: can we deliver a powerful idea of the surrounding everyday space, often taken for granted, through a single picture? Together with the photographer and member of our Board of Consuls Fabio Mantovani we looked for different locations, sometimes hidden or car-crossing spaces, sometimes suburban places, that we intended to enlighten. Working together with Fabio means putting yourself in the line, leaving the mind open to unforeseen experimentations.
One of our locations was the biggest park in the city of Bologna, the Giardini Margherita. In this park in the Seventies you could even find some lions who lived in a dedicated cage, in a sort of small successful zoo. Today the lions are no longer there but the space they were living in has remained: once the grid was removed, a raised platform and a wall were erected, someone then painted a mural representing a jungle. The collective memory of this place is still so vivid and strong in the Bologna community that even today's teenagers, who never saw the lions, meet at "the cage of lions".
Close to this meeting point there's a primary school: every afternoon, as after-school activity, lots of children get out and meet at "the cage of lions" place, to stay and play, together with their parents.
Read More »