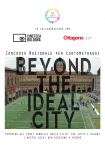 The international conference "Past Present and Future of Public Space," which will take place next June 25-27 in Bologna (Italy), is getting closer! But there is still time to contribute.
We are very proud to announce that City Space Architecture in collaboration with the Cineteca di Bologna and Ottagono.com have just launched a national competition for short films, called "Beyond the ideal city".
Not just words then, but also images, stories and emotions to describe and discuss the Past Present and Future of Public Space. In line with the international academic research project, the main purpose of this competition is to investigate the contemporary city, the connections, intersections and urban activities that take place inside it, seen through complex social issues, contexts and human geographies. Forgetting those seducing shapes of the ideal city, the competition asks to explore the public realm beyond the stereotypes and well-known images of consumerism, looking for hidden aspects that our eyes, deliberately or unconsciously, in the daily experience don't want or cannot see.
The deadline for sending short films is June 3, 2014. No registration fee is required.
On June 25, during the international conference, in a special session at Cinema Europa (via Pietralata 55), the jury will award the winner in front of a large audience, with the "Prize Ottagono.com", worth euro 2,000 in cash. The short film will then be presented and discussed.
The competition announcement (in Italian) can be downloaded HERE (as a .pdf file).
Read More »